Autumn Trend 2018
Posted on
Autumn is now in full bloom with the leaves falling to create colourful carpets under my feet as I walked my springer Phoebe today, she happily sprang amongst the seasons colours as springers do, shades of greens and gold mixed with burnt orange and saffron yellows ... It truely is a season of colour.
Layered up as the air chills, the fresh winds brushing my face I had that hygge feeling of being warmed by the colours surrounding me on my woodland walk, I was looking forward to my comforting bowl of soup on my return and a quick browse on the web to see what colour and pattern trends are upon us in the world of interiors....
Here is a mood board I made today selecting one of the current trends for adding texture and pattern in the form of occasional seating, by adding these styles of extra seating and floor cushions you can create practical interest to a bland colourscheme or block coloured room, I can supply some of these, you will find a selection in my online shop shortly.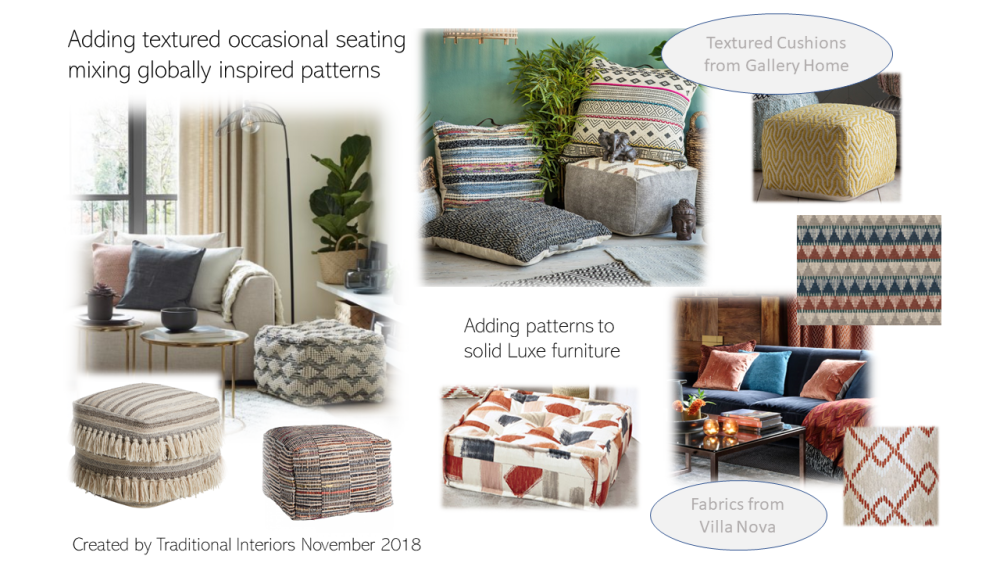 Using some of the Autumn colours to create different interior trends, here we see a good mix of pattern and texture, an eclectic look inspired by global trends including the decorative Ikats, Indian inspired block prints, authentic hand crafted weaves and a style of the new normadic trend. Adding detailing with hand tufting, trimming with tassels, hand dyed fabrics and weaves, you can also add these statement pieces to the Luxe look of solid semi glamour furniture as shown in the above picture, blue and burnt orange on a velvet sofa, the curtains are a small weave, the throw a textured pattern.
I'll add some more examples of adding texture next month.